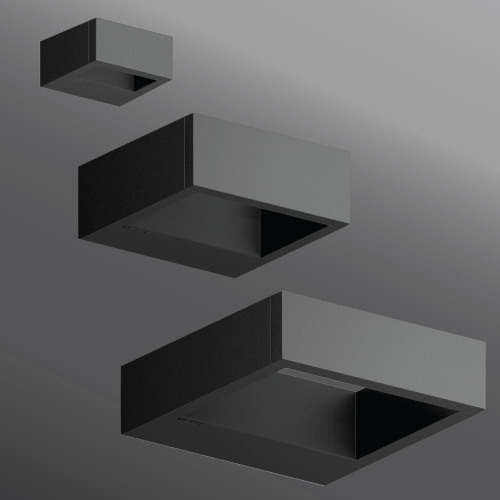 Augusta Wall Light
Model#: UAUG-300XX Ratings: IP65 IK04
A range of decorative square indirect wall mounted luminaires with hidden LEDs and optics that provides decorative and functional wall illumination. Ideally suited to illuminate the wall and surfaces, as well as provide light accents on vertical surfaces. This luminaire can be mounted in a horizontal or vertical position to provide a specific visual element to the building.
The Augusta is suitable for indoor and outdoor applications and provides a clean and visually appealing solution for wall mounted luminaires. This surface mounted luminaire is available in 3 different sizes, as well as bollard combinations. The Augusta 1 meets ADA compliancy.
All Ligman fixtures can be manufactured using a special pre-treatment and coating process that ensures the fixture can be installed in natatoriums as well as environments with high concentrations of chlorine or salt and still maintain the 5 year warranty. For this natatorium rated process please specify NAT in options.
---
Other Fixtures in the Augusta Design Family:
Spec Sheets and Downloads for Augusta Wall Light
Specification Sheets
| | |
| --- | --- |
| Augusta 1 Small Wall Light | |
| | | | | |
| --- | --- | --- | --- | --- |
| Model No. | Watts | Lumens | Kelvin | Dimmable 1-10V |
| UAUG-30001 | 5 | 198 | 27K,30K,35K,40K | |
| | |
| --- | --- |
| Augusta 2 Medium Wall Light | |
| | | | | |
| --- | --- | --- | --- | --- |
| Model No. | Watts | Lumens | Kelvin | Dimmable 1-10V |
| UAUG-30011 | 14 | 796 | 27K,30K,35K,40K | |
| | |
| --- | --- |
| Augusta 3 Large Wall Light | |
| | | | | |
| --- | --- | --- | --- | --- |
| Model No. | Watts | Lumens | Kelvin | Dimmable 1-10V |
| UAUG-30021 | 19 | 1328 | 27K,30K,35K,40K | |