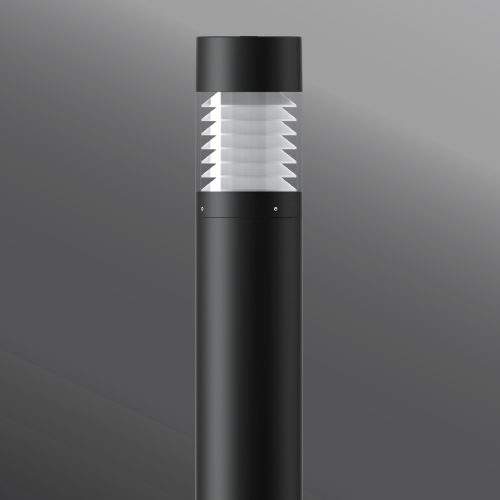 Tauras Bollard
Model#: UTU-X01XX Ratings: IP55 CE IK08 ETL
The Tauras is a decorative bollard that is suitable for both modern and classic architecture. Ideal for creating visual guidance with exceptional visual comfort. This product was developed to complement the Tauras range of pillar lights, wall sconces and light columns. The sleek shape provides distinctive lighting effects by night and decorative urban effects during the day. Suitable for pedestrian precincts, building surrounds, shopping centers, squares and parks. The luminaire is provided with a clear or opa ultra high impact UV stabilized acrylic lens that provides excellent low glare vertical and horizontal illumination.
The Tauras bollard comes standard with a unique waterproof internal driver housing compartment that is situated at the top of the pole to stop water and dust from entering the electrical components. This fixture is supplied completely wired with powercord and waterproof gland from the driver enclosure to the base of the bollard ensuring quick trouble-free installation. Custom bollard heights are available. Color temperatures of 2700, 3000 and 4000 Kelvin.
Security Bollard
The Tauras bollard is available as a traffic rated security bollard. This optional design includes a 1/4" wall thick galvanized steel security pole with 2 solid 1" galvanized steel cross support rods that are embedded into concrete. This secuirty bollard provides restraint of vehicular traffic in unauthorized areas. Impact studies show this bollard will stop a 5,500lb vehicle travelling at 30mph. For additional strength, the galvanized pole can be filled with concrete up to the waterproof driver housing to provide a sold concrete barrier.
---
Other Fixtures in the Tauras Design Family:
Spec Sheets and Downloads for Tauras Bollard
Specification Sheets
| | | | | | |
| --- | --- | --- | --- | --- | --- |
| Model No. | Watts | Lumens | Kelvin | Height | Dimmable 1-10v |
| UTU-10136 | 41 | 974 lm | 27K,30K,35K,40K | 29.4"/30.3" | • |
| UTU-10146 | 41 | 974 lm | 27K,30K,35K,40K | 41.4"/42.3" | • |
Tauras 1 Pillar Light LED
| | | | | | |
| --- | --- | --- | --- | --- | --- |
| Model No. | Watts | Lumens | Kelvin | Height | Dimmable 1-10v |
| UTU-70107 | 41 | 974 lm | 27K,30K,35K,40K | 18.8"/19.6" | • |
| | | | | | |
| --- | --- | --- | --- | --- | --- |
| Model No. | Watts | Lumens | Kelvin | Height | Dimmable 1-10v |
| UTU-10157 | 41 | 765 lm | 27K,30K,35K,40K | 29.4"/30.9" | • |
| UTU-10167 | 41 | 765 lm | 27K,30K,35K,40K | 41.4"/42.9" | • |
Tauras 2 Pillar light LED
| | | | | | |
| --- | --- | --- | --- | --- | --- |
| Model No. | Watts | Lumens | Kelvin | Height | Dimmable 1-10v |
| UTU-70117 | 41 | 765 lm | 27K,30K,35K,40K | 18.8"/20.1" | • |