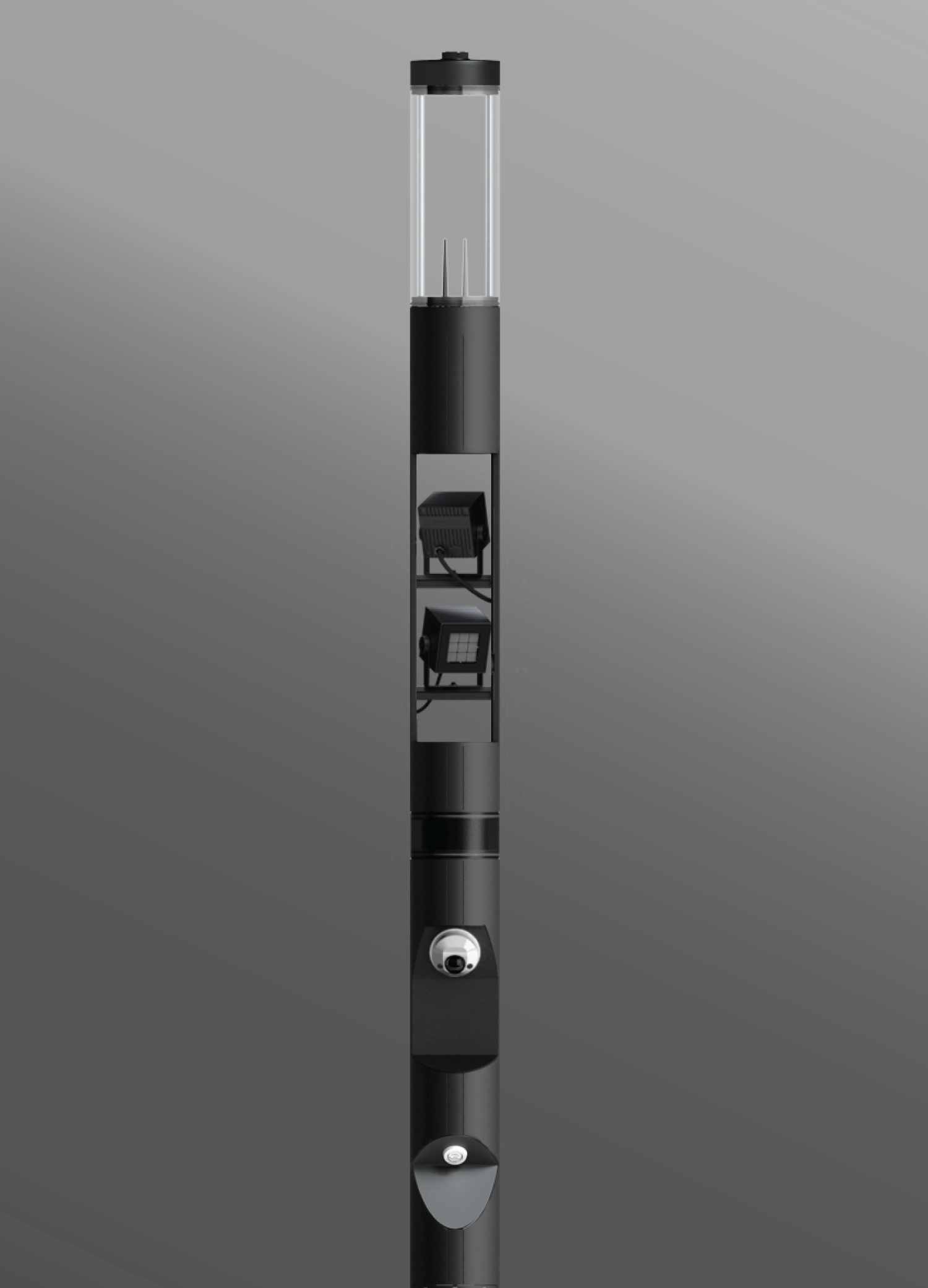 L Column
Model#: LCO-2XXXX
A sleek configurable smart lighting column system offering unlimited options for urban and public realm illumination. With a suite of smart city technology options and infinite configuration possibilities, Ligman's L-COLUMN is the most powerful and adaptable smart city solution in the marketplace.
Lighting Solutions
The system incorporates any post top ambient lighting fixture from the Ligman portfolio, plus bracket/arm area luminaires, floodlights and RGBW configurable beacons. The choice is yours to meet the lighting design needs for the space/area.
Smart City Solutions
Beyond these infinite lighting options are options for many Smart City tehnologies, including; an electric car/vehicle (EV) charging unit, intercom, panic button, CCTV, audio speakers, WiFi access points and mobile equipment, weather stations, banners, flags and signs.
Fully open, flexible smart city platform that offers not only complete package solutions, but also allows clients to choose their own preferences for WiFi access point hardware, camera systems and practically anything else Ligman can engineer into the L Column. Ligman L Column offers the agility for "future ready" components and systems.
Spec Sheets and Downloads for L Column
L Column Cutsheet
Photometric IES Files
LCO-20011
360˚ Lighting
LCO-20012
360˚ Lighting + WiFi
LCO-20063(-VN for Very Narrow Beam)
4 Odessa Floodlights
LCO-20064 (-VN for Very Narrow Beam)
2 Odessa Floodlights

• Up to 6000lm

•80˚, 130˚,134˚ x48˚, 134˚ x 54˚

• Adjustable: Tilt 40˚, Rotation 25˚
• Up to 1688lm per floodlight
• 8˚(VN) 23˚, 32˚, 47˚ Options
• 2700K, 3000K, 3500K or 4000K
• Please refer to UOD-50001 for luminiare details, UOD-50002 for Very Narrow beam

LCO-20065
4 Lador Floodlights
LCO-20066
2 Lador Floodlights
LCO-20065-RGBW
4 Lador RGBW Floodlights
• Adjustable: Tilt 40˚, Rotation 25˚
• Up to 1975lm per floodlight
• 10˚, 19˚, 33˚, 41˚x14˚, 71˚ Options
• 2700K, 3000K, 3500K or 4000K
• Please refer to ULD-50021 for luminiare details
• Adjustable: Tilt 40˚, Rotation 25˚
• Up to 1016lm per floodlight
• 8˚, 17˚, 26˚, 43˚x11˚, 65˚ Options
• RGBW30,RGBW40 & RGBW65
• Please refer to ULD-50022 for luminiare details
LCO-20051
NEMA
LCO-20041
WiFi
LCO-20071
Speaker
LCO-20121
Occupancy Sensor

• Wireless control for light fixtures

• Supports all wireless protocols

• 2.4Ghz world approved frequency

• Dual-band 2x2 Mimo 802.11N with 100m coverage

• PoE (Power Over Ethernet)

• 128 clients (Maximum number of active connections)

• 10-80W wide power

• 4 Ohm low impedance

• 20 Hz - 20kHz (wide audio range)

• 24 hour daylight monitoring dawn/dusk sensor

• Tri-level dimming control based upon occupancy

• Programmable detection area 30˚-150˚

• Programmable light level activation

• Programmable hold time 5s-30 minutes

• Cluster projector activator

LCO-20023
180˚ Camera
LCO-20024
2x180˚ Camera
LCO-20092
Intercom
LCO-20093
EV Charger

• High definition 1/2.9" progressive scan CMOS image sensor

• Low-level lighting mode

• Ultra high definition 2944x1656 pixels at 20fps

• Video bitrate up to 32kbps

• 3 axis on site adjustment

• API ONVIF

• Multiprotocol HTTP,HTTPS, PPPoE,SMTP

• Optional; Point, tilt, zoom versions or higher MP

• Stainless steel vandal protected

• Single button direct to controller alert

• Built-in camera and speaker

• IP communication

• EO Genius - worlwide service provider

• OCPP protocol for multi-service providers

• Single phase 7.2kW, multi-phase up to 22kW

• Easy to download and use app on any mobile device

• All in one system: charger, payment and monitoring through cloud portal

LCO-20094
EV Charger + Intercom
LCO-20101
Post Top Tenon
LCO-20131
Luminaire Long Mounting Arm
LCO-20132
Luminaire Short Mounting Arm
LCO-20111
Aluminum Base
LCO-20112
Aluminum Base + Cover
A21181
Floodlight Bracket
A21281
Banner Arm


LCO-20021
360˚ Camera Top Mount

• High definition 1/2.5" progressive scan CMOS image sensor

• Low-level lighting mode, 0 Lux with IR

• Video compression H.265+

• Ultra High Definition 2560x1440 pixels at 30fps

• 3 axis on site adjustment

• API ONVIF

• Multiprotocol HTTP,HTTPS, PPPoE,SMTP

• Optional; Point, tilt, zoom versions, higher 4 MP